Created by runners for runners, La Vie Sports is a fashion brand that believes sport can transform lives.
The brand sells in its own e-commerce and was born from the desire to wear really comfortable outfit for running, that wouldn't be curling, with functional pockets and also that is beautiful. This purpose is part of each product created, bringing comfort, functionality and style to its customers throughout Brazil. 
 I am the founder of the brand, I have two partners and we are always present in the brand's campaigns and day-to-day together with our team. All the models chosen for the photo shoots are real women, who love sport and are La Vie Sports customers. 
In this case, I will tell you about the Design of La Vie Sports: that goes from the creation of the Name, Visual Identity, Packaging and some of the Prints and Institutional Products created over the first 5 years of La Vie Sports. 
 Naming |  Visual Identity | Pattern | Packaging | Product Development 
Client La Vie Sports   |     2015 - 2021
Sustainability is a value that was born with La Vie Sports and accompanies all choices: from biodegradable fabrics to reusable packaging and also real, inclusive and inspiring communication, which avoids the traditional fitness stereotype.
The full and complete outdoor life inspired the creation of the name and its symbol: a stylized sun.
La Vie means Life in French and we seek to avoid the traditional fitness style, valuing elegance. For colors, we work with neutral tones that are applied to the pieces, with a more colorful complementary chromatic scale that is used in specific moments of campaigns and institutional products.
The leaves pattern was the brand's first exclusive print.The leaves were hand-drawn with a copic pen. The illustration was digitized to compose the pattern, printed on the fabric using the silkscreen technique using organic ink.​​​​​​​
The choice of packaging prioritizes durable, sustainable materials and encourages reuse. 
The institutional claim for the packaging layout and other products is: "Eu Vivo La Vie" that means I live my life. It represents the full force of living life, valuing the day, movement and active life in each one's way.On the packaging set, we have a model made through the upcycling of a pet bottle, which is cut out by a local artisan and turns into a box.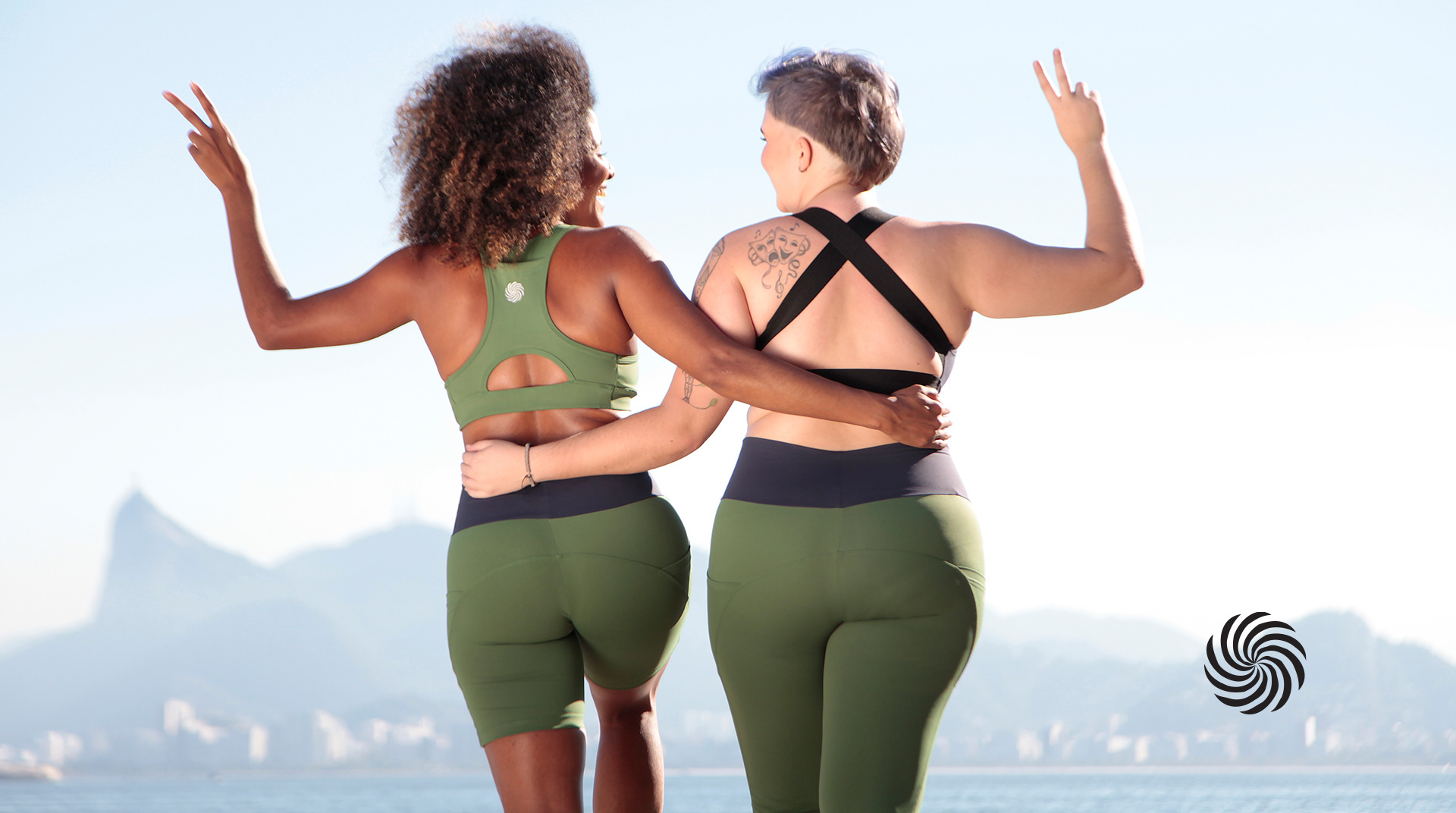 Criação: Fernanda Galindo
Estagiária Design: Victória Bragança
Fotografia: David Arrais @studiodavidarrais / David G. @odavidg / Davi Kuhn @davikuhn / Pedro da Matta @pedroadamatta
Modelos: Roberta Perlingeiro, Thais Pires, Fernanda Pires, Camila Moreira, Arinete, Mariana Gastin e Fernanda Galindo